This look is a couple of weeks old... I did it before I went to Paris but never got the time to post the pictures ;)
I wore it for work :) It's great to have glitters out with Metal Urge so I can actually wear glitter to work ;)
It's so sad that glitters don't show better in pictures but we all know how that is ;)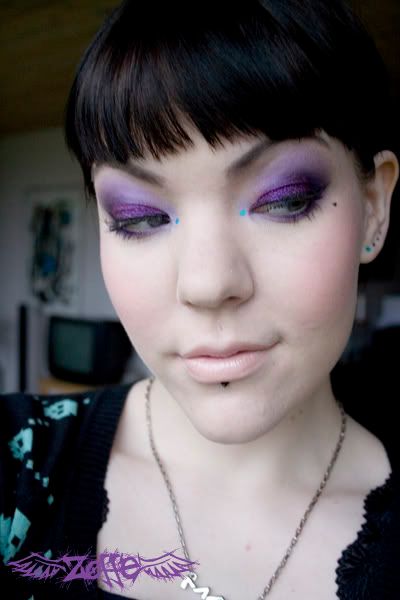 ..I couldn't find any earrings that I wanted to wear so I got a little creative with liquidlasts ;)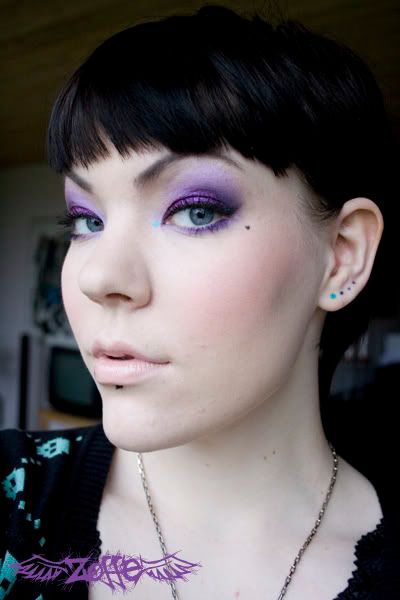 And just to show that yes, I can smile:
I used:
Eyes:
ArtDeco eyeshadow base
MAC Blacktrack f/l (base, liner)
DUO glue + MAC Reflects very pink glitter
MAC Violet pigment
MAC Beautiful Iris e/s
Some highlight color
MAC Aqualine lll
Cheeks:
MAC Pink Swoon blush
MAC Reflects very pink glitter (Doesn't show in the pics)
Lips:
MAC studio touch-up stick NC 15
MAC Hue lipstick
MAC Fulfilled plushglass
Face:
MAC Studio Tech foundation NW15
MAC Light MSF natural
How to recreate the look:
Eyes:
- Apply whatever eyeshadow base/primer you like
- Apply a black base to your eyelid. I used Blacktrack f/l. Other options are Mehron AQ makeup, MAC Blackground paint pot, MAC Sharkskin shadestick or NYX Black Bean jumbo pencil. Even a black pencil eyeliner will do ;)
- Smudge the edge of the black base. That'll make the colors easier to blend later.
- Apply your highlight color.
- Apply Violet pigment where the black base is smudged.
- Apply Beautiful Iris to blend the Violet into the highlight. I used it on the inner corners of my eyes as well.
- Dab a thin layer of DUO lash glue onto your eyelid using a finger or a q-tip. Using a brush is a bad idea since it's super hard to get the glue of the hairs when it's dry!
- Apply the glitter where you put the DUO. That way it'll stay in place and won't get in your eyes. I used my finger but a brush or a q-tip is fine too ;)
- Apply eyeliner on upper lashline - I used Blacktrack.
- I used Blacktrack f/l with Violet pigment on top to line my lower lashline. A brush like the MAC 219 is great for this.
- Apply little dots on the inner corners of your eyes using liquidlast liner if you'd like ;)
Cheeks:
Apply Pink Swoon blush and pink glitter using a regular blush brush. I concentrated both products on the apples of my cheeks and blended out.
Lips:
- Apply concealer on your lips. Even though I use NW in foundation I like to use NC for covering my lips. That'll neutralize the red in my lips a bit.
- Apply Hue lipstick. This doesn't change the color much but it's more comfortable on the lips.
- Apply Fulfilled plushglass to add extra shine