I found myself a new lover in Paris... It's name is Show Orchid ;)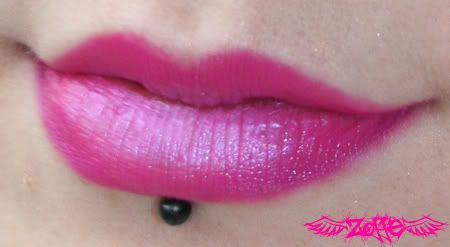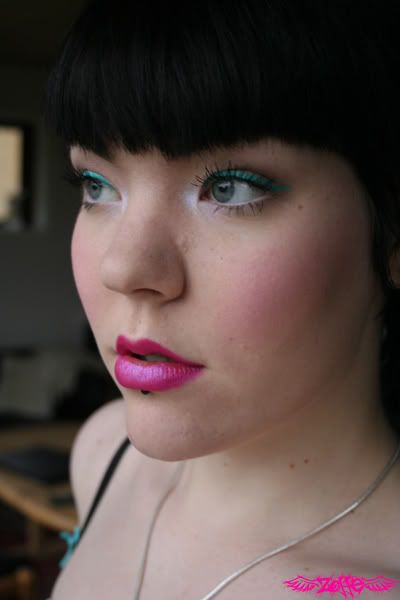 I used:
Eyes:
ArtDeco eyeshadow base
MAC Pink Opal pigment
MAC Scene e/s
MAC Aqualine lll
MAC Lark About pigment (LE)
Maybelline Colossal mascara (another new lover! This mascara is amazing!)
Cheeks:
MAC Azalea blush (PRO)
MAC Pink Opal pigment
Lips:
MAC Magenta lipliner
MAC Show Orchid lipstick (PRO)
MAC Lark About pigment (LE)
How to create the look:
The eyes are really simple:
- Apply whatever base you like
- Apply Pink Opal pigment from lashes to eyebrow
- Apply Scene eyeshadow in outer crease
- Apply Lark About pigment on the inner corners of your eyes. Vellum eyeshadow or Frozen White pigment could be used as well.
- Use Aqualine to line on upper lashline.
Cheeks:
- Apply Pink Opal pigment as a highlight using a regular blush brush
- Apply Azelea blush to apples of cheeks and blend out. I only used a TINY bit! That stuff is bright! ;)
Lips - the fun part of the look ;)
- Apply Magenta lipliner and blend it in with a finger, q-tip or lip brush
- Apply Show Orchid lipstick
- Add Lark About pigment to the inner part of the lower lip as a fun, blue highlight. You could use Vellum eyeshadow or Frozen White pigment instead if you don't have Lark About :)