If you think eyeshadows inspired by Ninja Turtles, Barbie dolls and Care Bears sound like a good idea, you need to take a look at
Glamour Doll Eyes'
latest collection
80s Child
!
Keep reading to see swatches and mini-review of four of the new colors!
First, play this while reading the rest of this post! ;)
About the collection
The collection consists of 10 colors, 4 of which I have to show you!
Each color is $9.00 and you can get the whole set for $72.00.
Samples of these colors are not available.
The 80s Child collection
is a Special Edition, meaning different packaging and new colors, but the shadows are not limited! Don't you just love when companies bring out new colors that actually get to stay?! :)
The colors in the collection were inspired by different characters from children's TV shows from the 80s, so 80s Child is a great name for the collection.
I was super excited about these colors, partly because I usually always enjoy GDE but definitely also because of the theme for the collection! And I'm actually not even an 80s child myself... Schh! I was born in 1990! But hey, I've still watched Teenage Mutant Ninja Turtles and played with Barbie dolls
a lot
;)
The packaging
Unfortunately, the name on my Mutant rubbed off because it got wet :/
These special edition shadows come in different packaging from the regular GDE eyeshadows. The lids on these are pink, the jars are 10 gram jars(regular GDE shadows come in 5 gram jars) with sifters and they contain 1 full teaspoon of product!
It says on the GDE site that

"They have pink lids (because they are cute) with a funky plastic sticker on the top that says Glamour Doll Eyes" and I'm loving it!
Swatches
Click on the pictures to see bigger versions :)
Dry swatches were done on top of ArtDeco eyeshadow base at the bottom of the picture and without a base at the top of the picture.
Wet swatches were done by using a wet layer of the color first and padding a dry layer of the color on top.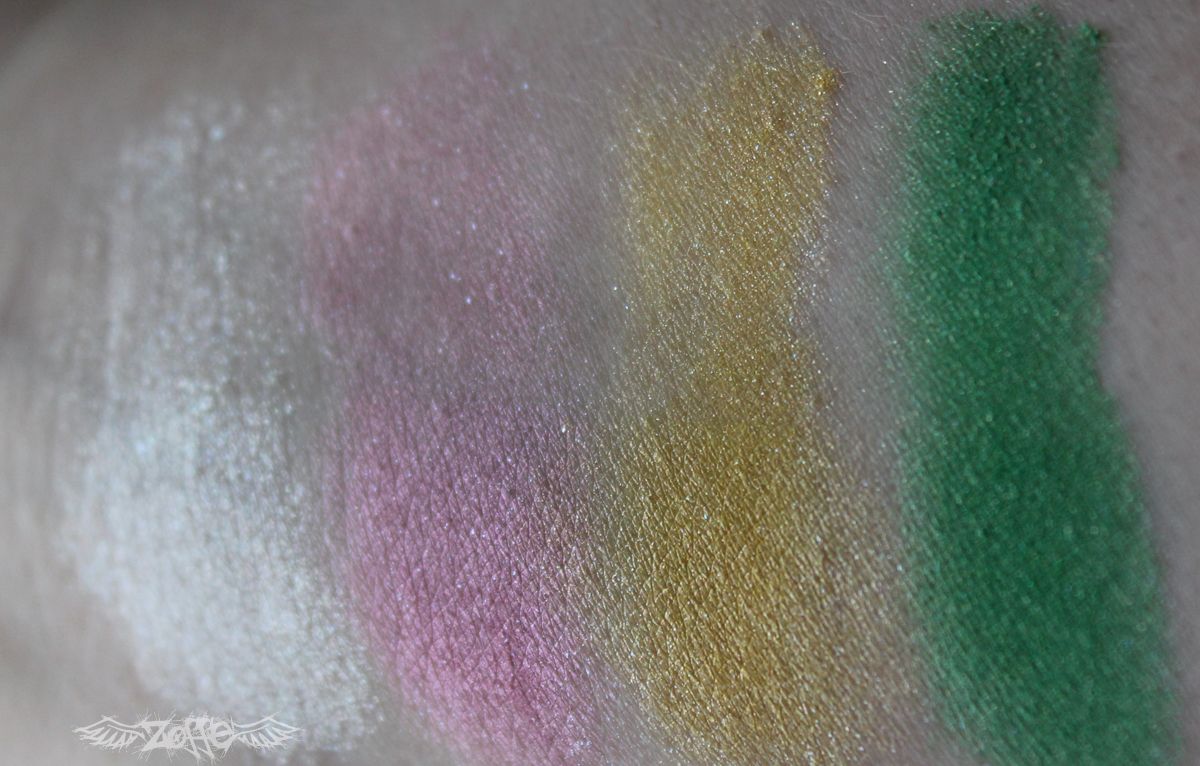 From left to right: Shimmer, Dream House, Jerrica, Mutant
From left to right: Shimmer, Dream House, Jerrica, Mutant
From left to right: Shimmer, Dream House, Jerrica, Mutant
From left to right: Shimmer, Dream House, Jerrica, Mutant
From left to right: Shimmer, Dream House, Jerrica, Mutant
The colors
Shimmer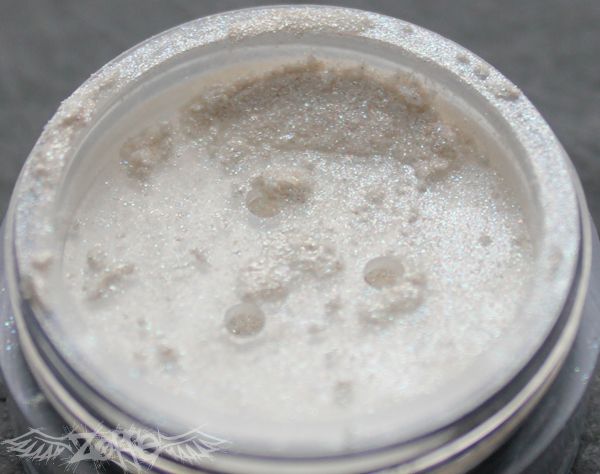 The GDE description says:
Shimmer is inspired by Rainbow Brite, but more specifically, the horse Shimmer. Rainbow Brite was introduced onto greeting cards in 1983 and became a TV show the following year. Shimmer (the horse) was not released into the line until 2009, but the name fit the shadow perfectly. Shimmer was Moonglow's horse.
This color is a white base with yellow, purple, red, blue and green shimmer/sparkle.
Approved For: eyes, face, lips & nails
The texture of this shadow was the least smooth out of the four I got, but it's still pretty easy to work with. When used wet, it almost looks more silver than white to me, but I think it's super pretty.
The multi-colored sparkle is definitely visible, but I think the blue sparkle is the most obvious, and I find this color works really well as a highlight for the inner corner of the eye! :)
The GDE description says:
Dream House is inspired by Barbie. The first appearance of Barbie was in March 9, 1959. Since then, she has been seen with many friends, accessories, houses, cars and of course, Ken.
This color the perfect barbie pink with aqua sparkle to represent her blue eyes.
Approved For: eyes, face, lips & nails.
If I were to describe this color in one word, it would definitely be Awesome!
It's extremely smooth, pigmented and easy to work with but most of all, it's just the perfect barbie pink with aqua sparkles, that I really like and find make the color a bit more unique.
It's quite a nice, soft pink when used dry but also an interesting color when used wet.
Definitely one of my favorite pink eyeshadows - ever!
And I haven't even tried it in lipgloss yet! I'm convinced it'll be fabulous and I'll make sure to share pictures when I try it :)
The GDE description says:
Jerrica is inspired by the show Jem. The first show started on October 6, 1985 and it stopped airing on May 2, 1988. Jem was about a music company owner named Jerrica that had an alter ego named Jem, who was in the band Holograms. This color is a vibrant yellow with pink and blue sparkle. The yellow and pink represents Jem's hair and the blue represents her eyes.
Approved For: eyes, face, lips & nails.
To be honest, I've never actually watched Jem, but I
have
seen pictures of her and if she could inspire a shadow this awesome, I'm sure the show was great as well ;)
(Yeah, tacky, I know)
But really, I do like the shadow! It's definitely a vibrant yellow with very obvious blue sparkle, and even though the pink sparkles don't really show up, they add a quite interesting and unique effect to the color.
As with Dream House, this shadow was super pigmented and easy to work with!
Mutant
The GDE description says:
Mutant is inspired by Teenage Mutant Ninja Turtles, which you can probably guess by the name. The first "appearance" of TMNT was in May of 1984, which was originally started as a comic. This color is an almost lime greenish color to represent the turtles and then a red, blue, green and orange shimmer to represent each turtle (Leonardo, Donatello, Michelangelo, Raphael).
Approved For: eyes, face, lips & nails.
I'm not going to say that I was disappointed in this color, because it's definitely super pigmented and smooth, but I might have had too high expectations for it. I thought the idea of multi colored shimmer was amazing but the shimmer doesn't show up as much as I was hoping it would, unfortunately.
It's not a bad color though! I love the green base color, and the yellow shine is definitely visible.
And who wouldn't be excited about a shadow inspired by the Teenage Mutant Ninja Turtles?!
As always, I'm impressed with the Glamour Doll shadows! :) They're pigmented, smooth and easy to work.
I think the idea for an 80s collection is fun and of course I'm a sucker for the packaging with the pink lid ;)
I think all the colors I tried are worth checking out but my favorite was Dream House!
Don't forget to check out the other 6 shadows from the collection as well - I'll definitely do that myself ;)
I did receive these shadows for free to review them, but but everything written is my own opinion and I'd never lie about a product no matter whether I bought it myself or not.