So, here goes my second MAC mascara review!
If you haven't read the first review on Fibre Rich Lash, you can do so
here
.
I'm really sorry that it has taken so long for me to post this, but Christmas, family and work got in the way.
Before writing this review, I used the mascara every day for about a week.
If you want to know more about what my MA(C)scara experiment is, take a look at
my first post about it
.
If you want to read about what I personally like in a mascara before reading the review, you can do so in
this pos
t.
The review
As I mentioned in my first post, the mascaras were given to all the MAC retail artists (in Denmark, at least) so that we could try them out and fill out a "mascara evaluation journal" which has some questions in it about each mascara. I won't be using the evaluation journal for the reviews though - I don't think it says enough about the product, and it's more geared towards how you would sell each mascara/who you would sell it to.
Overall
I haven't heard much about Mascara X, actually. One of my colleagues swears by it, but others have said that they found it "boring" and that it didn't do much for them.
I think this mascara is pretty good though. It's extremely easy to work with and it doesn't clump or make my lashes spidery in the slightest (which Fibre Rich Lash kinda did... Unfortunately!). It doesn't do amazing things to my lashes, but it actually
is
buildable, and I like it since I don't have to spend hours applying it!
Mascara facts
Mascara X is available in black (Black X) and brown (Dark Brown)
The mascara contains 6.5 g g/0.23 US oz. of product
The price is US $13.00 or DKK 125 where I live.
The brush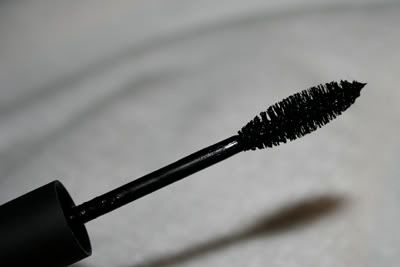 I've been trying to come up with something special to say about the brush, but I'm not really sure what.
MAC claims that "The softer fiber of the football-shaped brush delivers maximum payoff on the lashes". I'm not even sure if I like "maximum payoff" when it comes to the amount of mascara on my lashes? Hmm.
However, I do like the brush. I guess the consistency of the mascara combined with the shape of the brush coats my lashes evenly with absolutely no clumping at all.
I don't find the brush to be anything super special, but it gets the job done!
The consistency
I actually found the consistency of this mascara to be a bit on the creamy side, if that makes sense. It's not thin like many other mascaras, and I seem to really like that! I think that that - in combination with the brush - is what makes this mascara so super easy to work with.
Another thing I really liked about the formula of this mascara is that it keeps the lashes soft when it dries. It doesn't really
feel
like you have any mascara on at all - but you can
see
that you have ;)
Ease of use
MAC claims that "Mascara X builds dramatically longer, thicker and glossier looking lashes", but I'm not sure if I'd say that. Mascara X definitely is buildable but I wouldn't call it dramatic. It's not buildable in the way that Fibre Rich or Plush Lash is. It's buildable in a more natural way, I'd say. It's definitely noticeable when you put more than one layer on, but not dramatically.
This is probably one of the most easy mascaras to work with that I have ever tried. It looks good with only one, quick layer applied, but even if you do want to build it, it doesn't clump and still looks great and almost "fluffy" in a way.
The best about it
It's extremely easy and fast to work with, no matter if you want extremely natural looking lashes, or a bit more length and volume.
The worst about it
I don't find it as dramatically buildable as MAC says it is.
Would I use it again? Who would I recommend it to?
I'd definitely use it again. It seems like a great go-to mascara for when I'm in a hurry (which I seem to always be when I go to apply mascara) or even if I don't want extreme lashes, but still want them to look their best!
I'd probably recommend this mascara to people who (like me) don't like working on their lashes too much. Also, I think this mascara gives both a bit of volume and a bit of length, so you don't have to settle for just one of the things.
Before and After
(please keep in mind, that my lashes are naturally very light in color, so it's hard to see them, but they're there!)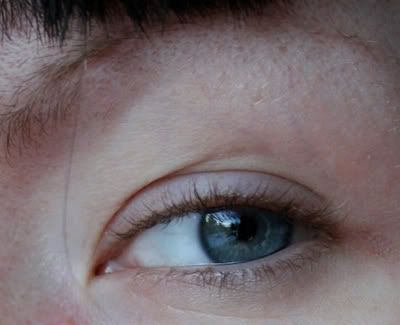 I have to tell you, that I think these pictures make the lashes look kinda spider-y, but I didn't find them to look like that at all in real life! I guess I'm either really bad at taking pictures, really bad at judging how my mascara looks IRL or really bad at applying mascara, haha! I'm hoping (and thinking) it's the first ;)

More information
MAC Mascara X reviews on MakeupAlley
Mascara X on maccosmetics.com
PLEASE let me know if you liked the review and found it helpful! :)