Last time I wrote about Sugarpill
, I wrote about how I wasn't supposed to buy it.
Well. My no-buy didn't last for very long though and I ended up ordering a few things! ;)
I wanted to share my excitement when the order arrived yesterday, but I wasn't able to take pictures and what would a Sugarpill post be without pictures?!
I did
tweet
about it though :)
I did get some pictures today though, so here they are along with a (quite long) review!
Everything came wrapped in bright pink paper! How awesome is that?!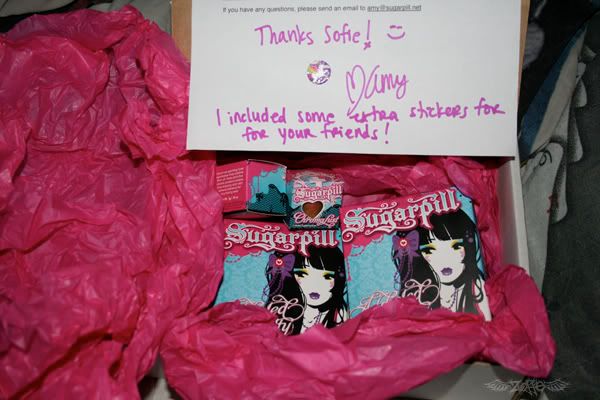 I got
Burning Heart quad
(With Flamepoint, Buttercupcake, Love+ and Poison Plum eyeshadows)
Sweetheart quad
(With Dollipop, Afterparty, Midori and Tako eyeshadows)
Absinthe ChromaLust
(loose eyeshadow)
Goldilux ChromaLust
(loose eyeshadow)
The packaging
Where to begin?
There's no way to do a review on Sugarpill without mentioning the packaging!
Everything from the way the palettes are made to the awesome design on the boxes and the fact that she uses pink paper to wrap the goodies in is just gorgeous.
No, I'm not telling you to buy the things because of the packaging, but I have to admit that cute packaging always help in my book! It just makes the whole experience that much better.
The palettes are quite heavy and even though they're made of cardboard they seem very sturdy. I can imaging the cardboard breaking if you use it a lot and have it lying around in your makeup bag for a long time, but I don't think that would happen if you just take care of it :)
The palettes are magnetized and the shadows in them can be taken out, which is quite amazing if you want to customize your palettes.
The shadow pans from Sugarpill are not the same size as Makeup Forever (which I've heard some people say). They're actually bigger, so while the Sugarpill shadows won't fit into MUFE palettes, the MUFE shadows can be put in the Sugarpill quads.
My only problem with the palettes is that they don't have names on them. Neither the names of the shadows or the name of the palette itself.
The jars for the loose eyeshadows are just as cute as the palettes! They also have the Sugarpill logo printed on the top and on the bottom there is a sticker with the name of the color! Yay ;)
The diameter of the jars is about the same as an old MAC pigment jar, but the Sugarpill jars are not as tall as the MAC ones.
Also, the Sugarpill jars don't come with sifters of plastic inserts (like MAC jars) so you have to be a little more careful.
The prices
To me, the prices seem very reasonable.
At first glance, it might seem a little pricey for a new company, but take a look at the product you're getting!
Single eyeshadows are $12 and you get 4 grams! Compare that to MAC ($14.50 for 1.5 gram) or MUFE ($19 for 2.5 gram) and it suddenly doesn't seem that expensive, does it? :)
Also, the flat shipping rate in the US is only $5 and prices for international orders is very reasonable as well. If you buy for more than $75 you get free shipping!
OK, I'll admit that Sugarpill seem a little expensive for a completely new brand, but you also get much better quality in both product and packaging than you would from many other new brands!
I guess you do pay a little extra for the awesome packaging, but I'm personally willing to do that! I still think the quality is amazing for the price!
The customer service
Usually, you only really notice the customer service when it's bad. I guess we're just used to good service where ever we go - no matter if it's an online or physical store.
Amy from Sugarpill knows a thing or two about costumer service though.
Sugarpill's
return policy
promises you that you'll get your money back if you don't
like
love a product.
I'm also loving how Amy writes little notes on invoice that you get in your package. It's such a small thing to do (maybe not if you have to process 34712348751 orders though, haha!) but I think it's so cute and I really appreciated it.
Oh, and you get a cool-looking free sticker with every order too :D I'm deciding where I want to put mine :P
Burning Heart pressed eyeshadow quad
Swatches were done over ArtDeco eyeshadow base on the bottom and without a primer at the top.
Sweetheart pressed eyeshadow quad
Swatches were done over ArtDeco eyeshadow base on the bottom and without a primer at the top.
Absinthe loose eyeshadow
Swatch on the left is dry and without a base. Swatch on the right is wet without a base.
First of all, I have to mention that I love the name!
Absinthe
is described as "A mischievous vivid lime green with yellow undertones. Shimmery!".
It's a lovely bright lime green with a gold duochrome effect. And it's no secret that I love duochromes ;)
I swatched this next to MAC Golder's Green pigment (LE) and while they were similar, Golder's Green has much more gold in it and Absinthe seemed to be more pigmented and have much more green in it.
Goldilux loose eyeshadow
I saved the best for last!
Goldilux
is described as a "Brilliant, highly-reflective metallic gold with breathtaking shine. The brightest gold you've ever seen. The micro-fine particles are super tiny, so this looks amazing sprinkled all over as body shimmer too."
While I haven't tried sprinkling it all over my body, and therefore can't say anything about that, I'll have to agree with the rest of the describtion!
Brilliant? Check
High-reflective metallic? Check
Breathtaking shine? Check
Brightest gold I've ever seen? Check!
I won't say it applied sheer when used dry (without a base) but it did make an amazing difference when using this color wet! Instant wow-effect :P
I used this as an eyeliner (mixed with MAC Eyeliner Mixing Medium) and it just looks... Brilliant!
Would I recommend it?
Most definitely!
My favorite products so far are
Goldilux loose eyeshadow
Love+ pressed eyeshadow
Dollipop pressed eyeshadow
But there's nothing I'd tell you to stay away from ;)
I plan on ordering more myself, actually! ;)
I have quite a few more loose shadows I want to try (them all, actually, haha!) but I'm not sure when.
While I absolutely adore all the bright colors, I can imagine some people running away from Sugarpill because of all the brightness. I think that's super sad though, 'cus even though the shadows are very pigmented, they're also quite easy to blend and so you don't necessarily have to do dramatic looks with them.
Another great trick is to just use the eyeshadow as an eyeliner - that way you can use all the fun colors in a more subtle way.
Have I forgotten anything?
I'm always afraid I forget something when I write a review, but I'll be happy to answer questions in the comments :)
I'd also love to hear about your experience with Sugarpill!