Before writing this review, I used the mascara every day for about a week.
If you want to know more about what my MA(C)scara experiment is, take a look at
my first post about it
.
If you want to read about what I personally like in a mascara before reading the review, you can do so in
this pos
t.
I've previously posted reviews on
Fibre Rich Lash
,
Mascara X
and
Pro Lash
.
As I mentioned in my first post, the mascaras were given to all the MAC retail artists (in Denmark, at least) so that we could try them out and fill out a "mascara evaluation journal" which has some questions in it about each mascara. I won't be using the evaluation journal for the reviews though - I don't think it says enough about the product, and it's more geared towards how you would sell each mascara/who you would sell it to.
The mascaras were not given to me for the purpose of writing about it on my blog but I chose to do so to share my experience with you.
Overal
I'm not really sure what I expected from this mascara, actually. I've never heard much about it and haven't used it before, but I was in for a nice surprise! :)
Mascara facts
Plush Lash is available in black (Plushblack) and brown (Brownette)
The mascara contains 9.0 g g/0.31 US oz. of product
The price is US $13.00 or DKK 125 where I live.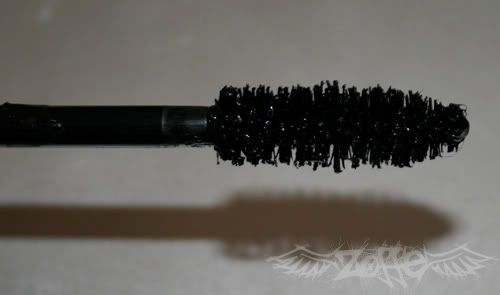 So, what's with the brush?!
As you can (hopefully) see in the pictures, the bristles are quite long on one side and really short on the other side.
What does that mean?
Well. The short bristles allow you to get a lot of product onto your lashes while the longer bristles combs through the lashes to ensure that there are no clumps.
Does it work?
I actually think it does! The brush is quite big though, so if you have small eyes or if you're just not used to big brushes, it'll take a little getting used to.
How do you make full use of the brush?
You can, of course, just use one of the sides at a time or even just use the one side you like the most.
I, however, used both sides at a time. If that makes sense? I start by putting the side with the short bristles against my lashes and turn the brush to the side with the longer bristles as I pull it out to the tips of my lashes. It's a bit hard to explain, but I really hope it makes sense!
Since this mascara is supposed to give a lot of volume, I was afraid the mascara would clump or that it would turn my lashes hard and stiff when it dried but luckily, none of those things happened. My lashes didn't stay soft enough to keep building the mascara once it was dry though.
The formula is just thick enough to not be runny but thin enough not to clump.


Like I mentioned above, you do have to get used to the brush, but once that's done I really didn't have any problems with this mascara.
This mascara was really great for some quite dramatic volume without clumping. I didn't find it to give much length though, which can be both a good and a bad thing. Good if you're wearing glasses and are afraid that your lashes will get too long and you'll get mascara on the lenses. Bad if you want an even more dramatic effect with tons of length.
I found it possible to build the mascara, and it didn't really clump on me when I did that either, but you know what the best part is? The mascara gave an impressive effect without all those layers and without having to work with it for very long. One coat is usually all I have patience for, so it's great to see that some mascaras actually do work with just that one coat! ;)
(please keep in mind, that my lashes are naturally very light in color, so it's hard to see them, but they're there!)
Click on the pictures to see full size :)
Nice volume without clumping!


The worst about it
It actually flaked a little on me, which is very rare!
Who would I recommend it for?
Someone who is wearing glasses or someone who has long lashes to begin with and want more volume from the mascara.
Would I use it again?
Yes, I think I will! I love the big brush and really like the way this mascara makes my lashes look.
More information
Plush Lash on MakeupAlley
Plush Lash on maccosmetics.com