Before writing this review, I used the mascara every day for about a week.
If you want to know more about what my MA(C)scara experiment is, take a look at
my first post about it
.
If you want to read about what I personally like in a mascara before reading the review, you can do so in
this pos
t.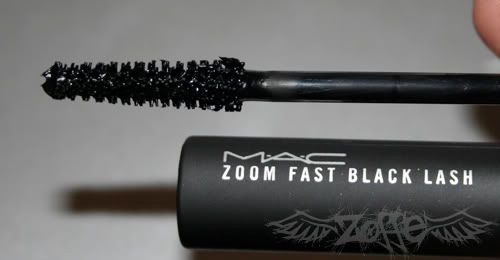 As I mentioned in my first post, the mascaras were given to all the MAC retail artists (in Denmark, at least) so that we could try them out and fill out a "mascara evaluation journal" which has some questions in it about each mascara. I won't be using the evaluation journal for the reviews though - I don't think it says enough about the product, and it's more geared towards how you would sell each mascara/who you would sell it to.
The mascaras were not given to me for the purpose of writing about it on my blog but I chose to do so to share my experience with you.
Overall
Zoom Lash was my first MAC mascara and I wasn't impressed
at all
. It was just a clumpy, spidery mess!
I really dreaded having to wear this mascara for a week, but when the week was over, I could actually see why some people like it.
Don't get me wrong. I still don't really like it. But I guess I can understand why some do.
Mascara facts:
Zoom Lash is available in black (Zoomblack) and brown (Lofty Brown) as well as the super black Zoom Lash Fast Black
Zoom Lash contains 9.0 g/0.28 US oz. of product and Zoom Lash Fast Black contains 8.0 g./0.28 US OZ of product.
The price is US $13.00 or DKK 135 in Denmark where I live.
The brush is quite long and thin. It does a great job at getting a lot of product onto your lashes but definitely not the best job at separating them. I'm not sure if I should blame the brush or the formula for the spidery look my lashes get from Zoom Lash, but I'm thinking I'd love the mascara do much more if only the brush would separate my lashes better!
It's quite thin, which is also why you get so much product onto your lashes. This can be both a good and a bad thing, I guess. In this case, I personally find it a bad thing because the brush doesn't work for separating the lashes well enough.
I also found this mascara to get really hard when it dried. Like... My lashes would feel stiff. This probably just makes the mascara hold the curl better, and I didn't really mind the feeling too much, but I think it should be mentioned.


It says on the
MAC website
that Zoom Lash "coats in one stroke from root to tip", and I'll admit that they got that part right. However, they don't mention the clumpy mess you end up with that way. Sure, the effect is dramatic! But in a good way? Not on my lashes :(
So, is one coat really enough? Yes and no. You might get the amount of product you like on your lashes in just one coat, but that doesn't mean you're done! You need to separate your lashes with a clean mascara wand or something if you don't like spider lashes.
Zoomblack vs. Zoom fast black lash
Is there really a difference between the two black versions of Zoom Lash?
I do think that Zoom Fast Black Lash is a tiny bit blacker than Zoomblack, but I don't get why they didn't just replace ZoomBlack with Zoom Fast Black Lash. Why have both?
(please keep in mind, that my lashes are naturally very light in color, so it's hard to see them, but they're there!)
Click on the pictures to see full size :)
It really does lengthen a lot! I also found this mascara really good for holding a curl.


The worst about it
Spider legs :( Don't think I need to say anything else here.
Who would I recommend it for?
Well, I know some people like the spider-y look for mascara. If you're one of those, definitely go for this mascara!
If you don't like spider legs, I'd only get this mascara if you have the patience to make it work. If you do, you can actually get some pretty great results!
Would I use it again?
Probably not. I don't like spider-y looking lashes, and I'd rather just spend the time applying false lashes instead of brushing out clumps.
More information
Zoom Lash reviews on MakeupAlley
Zoom Lash on maccosmetics.com