I was sent some products from
Glamour Doll Eyes
to do a review, and I just haven't gotten around to finishing it yet!
I'm working on it though, and the review
is
coming up very soon :)
I'll tell you one thing though: I'm happy with the things, and have already ordered more! (which I paid for myself, obviously)
This isn't my first time using the products, but I think it's the first time I post pictures :)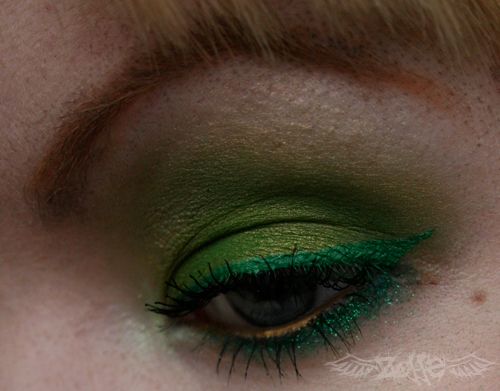 Kinda creepy picture, lol!
But it shows the makeup ;)
I used:
Eyes:
ArtDeco eyeshadow base
Glamour Doll Eyes (GDE) Oddity e/s
MAC Vanilla pigment
MAC Landscape green pigment (PRO)
MAC Minted eye kohl
GDE Cashed Out eye lights (glitter)
GOSH extreme art eyeliner (the green one)
Urban Decay Honey 24/7 liner
Detrivore Cosmetics Green Hilite
Brows:
High Voltage Cosmetics Blonde brow powder
Face:
MAC Studio Sculpt foundation NC15
MAC Blot powder
Cheeks:
MAC Ripe Peach blush (LE)
Lips:
MAC Viva Glam Cyndi l/s
MAC Fulfilled plushglass
How to get the look
Eyes:
Apply your base of choice. I used ArtDeco eyeshadow base.
Apply a bright green with a gold shine to it to your eyelid. I used Glamour Doll Eyes(GDE) Oddity. I applied it wet first and added a dry layer on top. When used wet, Oddity is much more of a darker green, so by adding the dry layer on top it brightens everything a bit.
Apply a golden highlight color on your brow bone. I used MAC Vanilla pigment
Apply a matte green to deepen your crease a bit. I used MAC Landscape Green pigment (PRO)
Apply a green, liquid liner on your top lashline. I used the green extreme art eyeliner form GOSH.
Using a q-tip, apply eyelash glue to the outter part of your lower lashline
Before the glue dries, stick a green glitter to it using another q-tip. I used GDE Cashed Out Eye Light.
Apply a gold liner to your waterline. I used Urban Decay Honey.
Apply a light shadow with a green duochrome to your tearduct area. I used Detrivore Green Hilite.
Apply mascara and fill in your brows (I used High Voltage Blonde brow powder) and your eyes are done!
Face, cheeks and lips:
Apply your foundation and powder of choice. I used MAC Studio Sculpt for great coverage without being too matte and I set it with Blot powder in my t-zone since I tend to get a bit oily there.
On my cheeks I used MAC Ripe Peach blush. I concentrated the color on the apples and blended it out.
Apply MAC Viva Glam Cyndi to your lips! I just applied a small amount and used a gloss on top to sheer the color out a bit more. I used MAC Fulfilled plushglass, but any clear gloss will work as well!