If you're not familiar with the newest additions to the MAC Viva Glam line, Gaga and Cyndi, you need to read this!
Even if you
have
heard of them (which I'm sure most of you have) you can keep reading if you're interested in a quick review with a couple of pictures thrown in there as well ;)
Gaga on the left, Cyndi on the right
Cyndi Lauper and Lady Gaga are the new spokespersons for MAC Viva Glam and this is the first time the Viva Glam lipsticks have actually been named after the spokespersons behind the colors. I have to admit that I like this change! I think it's a lot cuter to have a lipstick called Gaga rather than Viva Glam VII.
I also find it really neat that MAC put Gaga's and Cyndi's signatures on the lipsticks(and boxes)!
These two new Viva Glam lipsticks are both Lustre finish, but while I'm not usually a huge fan of lustres in general, these are really nice and smooth.
They're not overly pigmented, so you can get very different effects with both of them depending on which liner you choose - if you choose to wear a liner at all.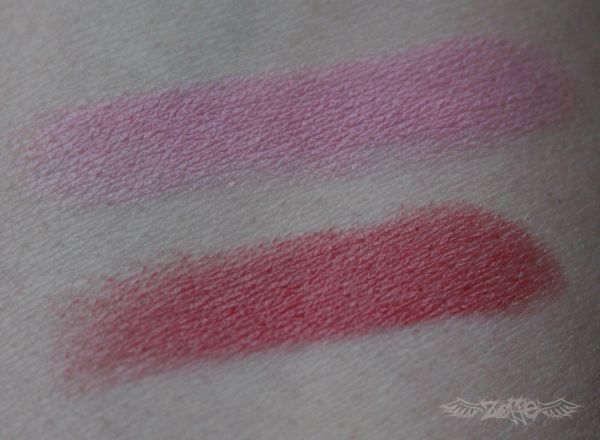 Gaga at the top, Cyndi at the bottom
Gaga
is a nice bubble gum pink color, and while it has been compared to colors like St. Germain and Snob, I find this a lot more wearable because of the more sheer finish. It still isn't exactly a
sheer
color or an easy every day color to wear, but I believe most people will be able to make it work!
Cyndi
is one of those colors that I can see pretty much everyone using. Paired with a lipliner, it can be pretty bold, but a sheer application will give you a really nice every day red.
I've tried it with both a pink liner and a more warm red liner and, surprisingly, both of them worked really well!
The MAC Viva Glam lipsticks are $14.00 (DKK 155 here in Denmark) and all the money go directly to the
MAC AIDS fund
. They are going to be available at MAC stores and counters for a year.
I already did a
tutorial using Cyndi
, and a plan on doing a Gaga look soon as well!