Before writing this review, I used the mascara every day for about a week.
If you want to know more about what my MA(C)scara experiment is, take a look at
my first post about it
.
If you want to read about what I personally like in a mascara before reading the review, you can do so in
this pos
t.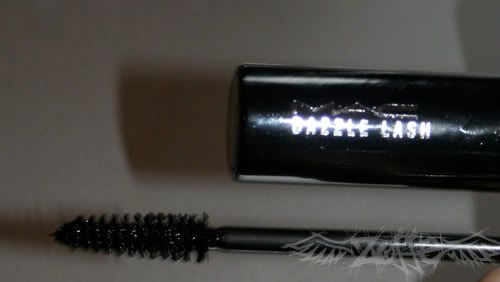 As I mentioned in my first post, the mascaras were given to all the MAC retail artists (in Denmark, at least) so that we could try them out and fill out a "mascara evaluation journal" which has some questions in it about each mascara. I won't be using the evaluation journal for the reviews though - I don't think it says enough about the product, and it's more geared towards how you would sell each mascara/who you would sell it to.
The mascaras were not given to me for the purpose of writing about it on my blog but I chose to do so to share my experience with you.
Overal
Besides Zoom Lash, this was actually the only MAC mascara that I had owned before doing this "experiment", and I loved this soooo much more than Zoom Lash!
Mascara facts:
Dazzle lash is available in black (Black Dazzle) and brown (Star Brunette)
The mascara contains 8.0 g g/0.28 US oz. of product
The price is US $13.00 or DKK 125 where I live.
The brush is quite small, so while it doesn't coat the lashes super-duper quickly it does make it super-duper easy to get all the little lashes without getting mascara all over the place!
It's not too runny so that you get too much product on, and not too thick so that it clumps. It seems to be just the right consistency to coat the lashes evenly.
MAC says that this mascara keeps the lashes "soft, light and flexible" and I think that's right. My lashes don't feel stiff or hard when wearing this mascara so that's a good thing.
I don't feel that this mascara gives me a ton of volume or length, but it gives just enough to be a nice everyday mascara for me. I like that it holds a curl quite nicely as well.


My absolute favorite thing about this mascara is how easy it is to work with! As I mentioned above, the consistency along with the brush is what makes this mascara completely foolproof.
It's a great mascara if you have smaller eyelids and don't like big brushes, too.
I'm also loving how this mascara gets all my little lashes and makes it look like I have more!


(please keep in mind, that my lashes are naturally very light in color, so it's hard to see them, but they're there!)
Very, very easy and fast to work with while still making my lashes purrrrtty


The worst about it
I wish this mascara would be a bit more dramatic!
Who would I recommend it for?
Someone like me who don't like spending a lot of time on their lashes and someone who prefer non-clumpy, non-spidery lashes!
It's also great for those with smaller eyes who sometimes have troubles with bigger brushes.
Would I use it again?
Yes! It's my go-to mascara because it is so easy to use. It looks much more dramatic on top of a primer (I use MAC Prep+Prime lash) so I sometimes use it like that too :)
More information
Dazzle Lash on MakeupAlley
Dazzle Lash on maccosmetics.com