I had actually been wanting to try out some products from
Glamour Doll Eyes
for a long time so I was super happy to get these products sent to do a review on them.
I remember seeing products from Glamour Doll Eyes for the first time in a video from
MyEyeshadowIsOdd on YouTube
and that's probably no coincidence.
Glamour Doll Eyes sponsor quite a few makeup gurus on YouTube and I personally think it's a great way for a company to get noticed. I also really like how Vanessa, the owner of GDE, lets her costumers and sponsored girls choose the names for her new products!
In the color description of each of the products on her site, it'll say who named the shadow, and sometimes the shadow might even be inspired by a guru or blogger - like how Oddity is named after MyEyeshadowIsOdd and the lovely
Phyrra
has a color named after her as well!
Unblended and unique colors
While Glamour Doll Eyes offer a wide range of unique colors they also sell what they call "unblended colors" which are "minerals/pigments in its truest form besides adding powders (on most occasions) to improve slip, adhesion, blend ability and longevity".
What does that mean?
Basically, it means that Glamour Doll Eyes didn't design those colors themselves and you might be able to find complete dupes from other mineral companies that sell unblended colors as well.
When deciding what colors I wanted from GDE, I didn't choose any of the unblended ones(with the exception of the glitters), since I wanted to try out the unique GDE colors.
So... Is this like the Lime Crime repackaging incident?
No! I definitely don't think it is!
Glamour Doll Eyes clearly states which shadows are unblended and which they made themselves. When shopping at GDE, you have the option to choose unique colors or ones that you might be able to find somewhere else.
So why would you buy the unblended colors, you might ask?
I think there could be many different reasons for that. If it's a color you like, it's probably much more convenient for you to buy the finished product in a jar rather than buying bags of color and base powder, having to mix them together and put them into a jar yourself.
Whether you think the unblended shadows are worth it is entirely up to you, but at least GDE clearly states which of their shadows are unblended.
Packaging
The Glamour Doll eyeshadows come in small, clear jars with a label on the top. The packaging isn't terribly unique, but it works. The label has the name of the brand as well as the name of the product, and the design is quite cute while still being simple enough to be able to read what the label says.
A really great thing, is that you can choose if you want a sifter in your jar or not. Adding the sifter doesn't cost you more, but you'll get more product in a jar without sifter.
Swatches and thoughts
I got 4 eyeshadows and 2 eye lights (like glitters), so let's start with the eyeshadows!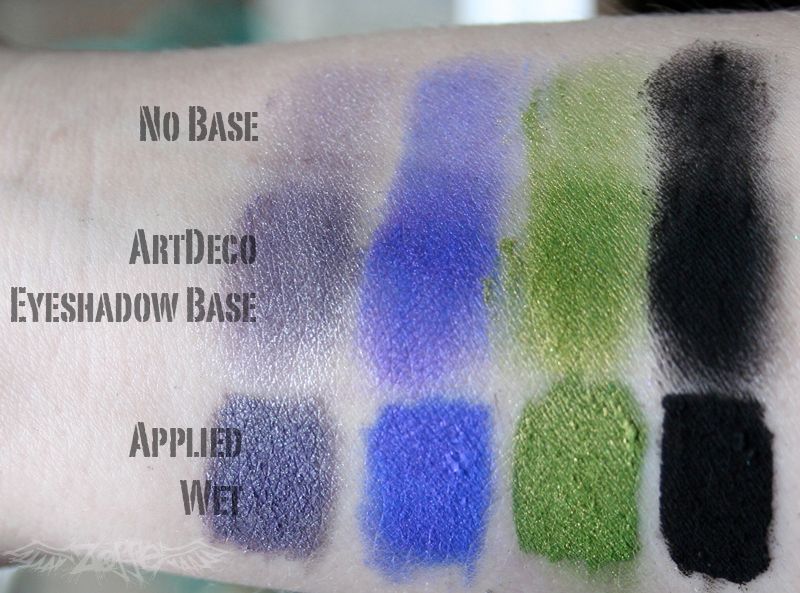 Click on picture to see full size
Just Dance: "is a very unique blend of matte and metallic. This color includes a matte purple mixed with a metallic shimmery silver to make a gorgeous silvery purple color."
This is a very unique color! The color description is pretty accurate. This is a great color to do "different" silver/grey smokey eye but it works really well with purple shades as well.
This was not the easiest color to work with though. When applied dry, it's best for just a was of color. I tried to pack on the color dry but it almost seemed like it blended away when I tried to blend it out. I didn't have any problems with it when used wet though, so if you like the look of the color, I'd definitely still recommend it!

Tattoed: "a very unique blend of matte and shimmer. This color includes a bright blue mixed with a gorgeous shimmery purple"
This might be my favorite out of the colors that I got! At first, it reminded me of a more pigmented version of MAC Parfait Amour eyeshadow, but when swatched, it was very different! Tattooed is much more reddish - probably because of the gorgeous red/pink shimmer in it!

Oddity: "is a very unique blend of shimmer and matte. This is a lime green but almost looks duochrome as well!"
This color is super gorgeous! At first, it reminded me a lot of Sugarpill Absinthe, but when applied, it seems to have a much darker green base than Absinthe does. I don't think Oddity is better or worse than Absinthe - it's just a different color altogether and I'm happy to have both :)
Just like Tattooed, this color is very smooth and I found it quite easy to blend!

Graffiti: I can't find the "official" color description since the color was discontinued. I suck for taking so long to do this review!
Anyway... The color has a matte black base, and is supposed to have green glitters in it as well. It looks amazing in the jar, but it doesn't transfer very well when applied. I had to apply it wet first and use a dry layer on top to be able to see the green glitters, and even then, they weren't very noticeable.
Glamour Doll Eyes used to have several black shades with different glitters, but Vanessa told me that they were all discontinued because of problems with the glitter sticking when used. Such a shame that the colors didn't work, but I'm happy to know that they discontinue things that don't work.
And let's have a look at the glitters as well!
Click on picture to see full size
From left to right:
Rave: "is a purple glitter powder"
Cashed Out: "is an emerald green glitter powder"
If you know me, you'll know how much I
love
glitter so you can probably imagine how excited I was about these!
They are both very vibrant glitter colors and the size of the glitter is quite small. If you're familiar with the MAC glitters, these remind me of the Reflects Glitters in size.
Just awesome! :)
These eye lights are unblended, so they're not unique GDE colors. I don't care though. I just love them :)
Prices
Eyeshadows are priced at $6.00 for a full jar, $1.50 for a sample baggie and $2.5 for sample jars.
Eye Lights(glitters) are priced at $4.50 for a full jar, $1.10 for a sample baggie and $2.00 for a sample jar.
You free shipping on orders only including samples (baggies or jars) and all orders over $30.00(also on International orders, yay!) so I definitely recommend spending at least $30.00 to get free shipping ;)
Costumer Service
Since I didn't pay for my first order myself, and didn't have any problems with my "order", I can't really speak about the costumer service, but Vanessa seems like an absolute sweetheart, and since I follow her on
Twitter
, I've seen that she spends time replying to people there, as well as on her
formspring page
.
Would I buy the products myself? Would I recommend them?
I already placed an order, so I guess that answers the first part! :)
I ordered all the Twi-Shadows, since they were on sale for 50% off, so I'm looking forward to getting those! I really want to get all the other glitters as well as some more of the regular eyeshadows.
So yes, I'd definitely recommend Glamour Doll Eyes :)
I know this review was a bit long and that I've probably forgotten something anyway ;)
I'll be happy to answer any questions though, so just leave them in the comments!
I'd also really like to know what you think about the review! Is is too long? Not informative enough? More swatches needed? Anything else?
I plan to do at least one tutorial focusing on these products, but I haven't recorded it yet, so let me know if you have any ideas :)