This fall, MAC are coming out with two new additions to the Viva Glam family; Gaga lipglass and Cyndi lipglass!
Wham up the GLAM in VIVA GLAM! Ladies and gentlemen, we give you the sensational Cyndi Lauper and Lady Gaga! The uninhibited new voices behind MAC's new "From Our Lips" campaign, designed to speak to the challenges women face as the fastest new group affected by HIV/AIDS around the world.
The MAC AIDS Fund and the VIVA GLAM program are the heart and soul of MAC Cosmetics. Established in 1994 to support men, women and children affected by HIV/AIDS globally, VIVA GLAM I, II, III, IV, V, and VI were launched as continous shades and have achieved tremendous success over the years. Fall 2010 sees two new Lipglass shades, introduced by our audacious superstars for a limited six months on counter.
The new glosses
The new Viva Glam glosses are basically the same colors as the Cyndi and Gaga lipsticks, but in gloss form!
Many will probably find the Gaga gloss a bit more wearable than the Gaga lipstick, but I'm sure they'll look amazing together as well.
I really love the way the Gaga and Cyndi lipsticks look when layered, so I'm sure you'll be able to get some great combos with the glosses and lipsticks together as well :)
Both of these glosses are quite pigmented, like the MAC Lipglasses usually are, but you can always just apply a thin layer or use a nude lipstick underneath if you want less color.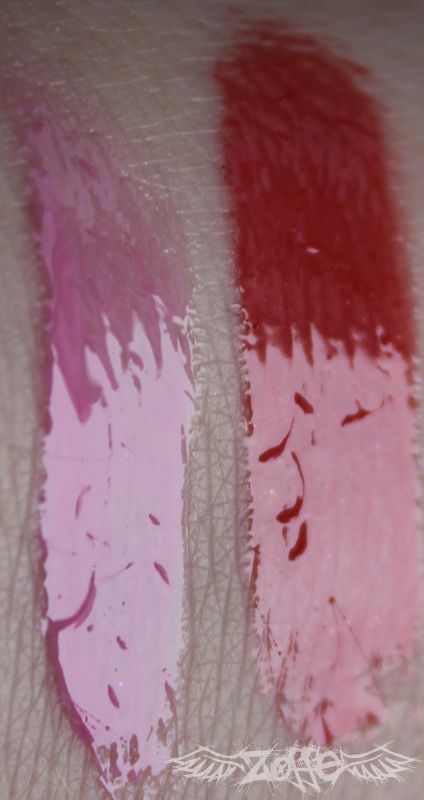 From left to right:
Viva Glam Gaga lipglass: Light blue pink
Viva Glam Cyndi lipglass: Light coral red
VIVA GLAM
I think VIVA GLAM is an amazing campaign, so don't forget to check out the other Viva Glam lipsticks and glosses at your local MAC counter! All of the shades available are very classic and I'm sure you'll find at least one you'll like :)
To read more about the Viva Glam campaign and MAC AIDS Fund, go check out
MACAIDSFUND.ORG
Release dates
North America: August 9th 2010
International: September 2nd 2010
The Viva Glam Gaga and Cyndi lipglasses are limited edition but will be available for 6 months.
It really makes a difference!
Buying lipstick will obviously never save the world, but I think it's amazing to know that every cent of the selling price of the Viva Glam lipstick and lipglass is donated to the MAC AIDS Fund.
As of February 10th 2010, The MAC AIDS Fund had raised more than $150 million, and that was before the From Our Lips campaign with Cyndi Lauper and Lady Gaga even started!
In the first two weeks after the Gaga and Cyndi lipsticks were released, they raised more than $1.5 million in North America alone!