I don't think you
need
to do anything different than usual when wearing glasses but I'm having fun experimenting with the different effects I can get with glasses and different types of makeup :)
So far I'm loving colored liner and bright lips when I'm wearing glasses :D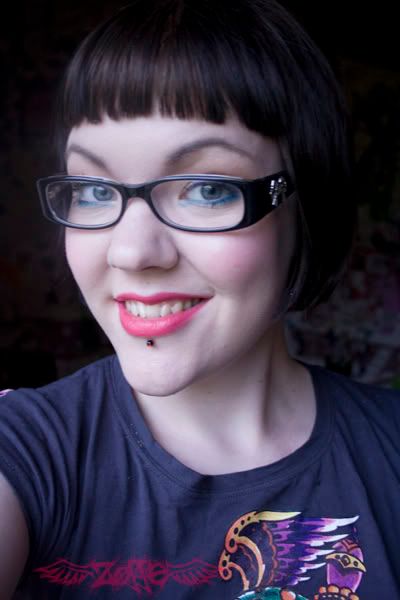 I used:
Eyes:
MAC Brulé e/s
MAC Sable e/s
MAC purple lll... The name has rubbed off and I really can't remember it right now!
Bourjois "54 Bleu clinquant" metallic eyeliner
Makeup Store Splash eyedust
GOSH white kohl pencil
Face:
MAC Prep+Prime Face SPF50
MAC Studio Sculpt foundation
Cheeks:
MAC Impassioned l/s
MAC Pearl CCB
Lips:
GOSH Glam Pink l/l
MAC Impassioned l/s
I think this look goes well with the
Hydraluminous trend
, even though I have colour on both my eyes and lips since my skin looks glowy and the lipstick used as a blush gives a nice flush of colour to my cheeks without looking too much like makeup.