NOTD - or nails of the day ;)
If you saw my "
Recent makeup buys
"-post you most likely saw the pretty nail polishes that I got :)
Here's a picture of my nails "wearing" GOSH's Peachy nail polish w/ GOSH Rainbow nail polish on top: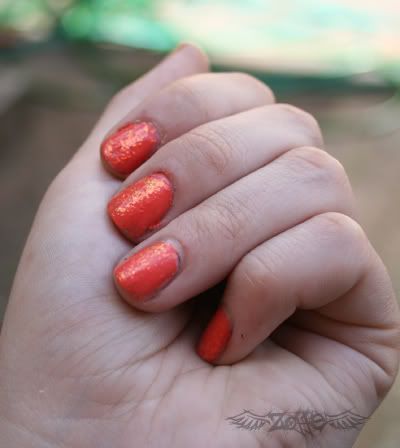 And a close-up
Please excuse my not so gorgeous nails and the semi-crappy application. I just wanted to see how the two polishes would look layered :)
I really love those "flakie" nail polishes! They add a bit of fun to any boring polish I have sitting unloved on the shelve ;)
Now I just need to find out where to get more! ;)
I haven't done any NOTD posts before and there's a reason for that...
My nails don't look great and I've been too impatient to do anything about it. Before my polish dries I've usually screwed it up. But that was before I found out about quick drying sprays and top coats! ;) Since discovering those I've been much happier to experiment.
That being said, I'm in no way a nail expert! And I haven't tried many of the popular brands like China Glaze and O.P.I - only because I don't have access to them where I live.
I do plan on making an online order though! ;)
Please let me know what you think about these types of posts :)