I really haven't had time to take pictures of my nails this week, so to make up for that, I painted all my nails different colors today, haha! :)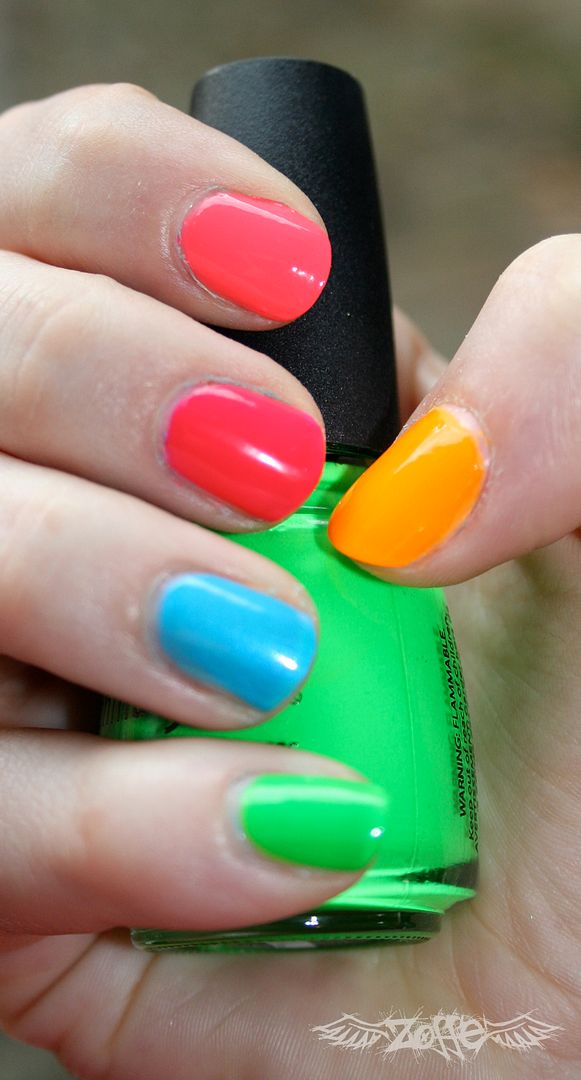 All the polishes are from the China Glaze '10 Poolside collection :) There's one more color in the collection, Yellow Polka Dot Bikini, but that'll have to wait for next week ;)
I did three coats on all of these, but Pool Party was actually fine in two coats and Sun Worshipper could have used a fourth coat.
All the colors dry to an almost matte finish, but I decided to wear a shiny top coat :)
Little Finger:

Kiwi Cool-Ada

- There aren't enough neon green polishes in this world!
Ring finger:

Towel Boy Toy

- This is the only one with a slight shimmer to it, and it isn't as neon as the other ones. It's still one of my favorites though!
Middle finger:

Pool Party

- Definitely the one that was easiest to apply. It isn't as bright neon as I would have hoped, but I still really like it.
Index finger:

Flip Flop Fantasy

- This was the one I thought I was going to like the least, but it was actually my favorite out of all of them!
Thumb:

Sun Worshipper

- I found the application of this to be the hardest, but once it's on, it's absolutely gorgeous!