I know that the Liberty of London collection is super old news to those of you in the US and Canada, but it actually isn't released here until April 15th! I was lucky enough to get my hands on some goodies yesterday though ;)
As always, I'm going to be honest with you here. I'm not a fan of the packaging in this collection. I might be the only one who doesn't like it but it's just not "me". Sure, it's cute and all, but idk... I'm not a fa.
I do have one nice thing to say about the packaging: Unlike the Dame Edna lipsticks, which had stickers on them, these little flowers and birds are actually printed on (if that's what you call it?) so they won't fall off ;)
I got
Birds & Berries eyeshadow: This is a Veluxe Pearl textured eyeshadow, which means that it's very pigmented and quite shiny without being sparkely or glittery. Veluxe Pearl is my favorite MAC eyeshadow texture, and the color payoff of this eyeshadow is even more amazing than most veluxe pearls! Oh, and the color is gorgeous too, haha :)
Petals & Peacocks lipstick: I actually got this because it looks like a dupe for my beloved, but limited edition, Gladiola lipstick from the Dame Edna collection. The finish is different though, with P&P being and Amplified Creme and Gladiola being a matte. Amplified Cremes are quite pigmented but more moisturizing than matte lipsticks.
Shell Pearl Beauty Powder: I really like beauty powders. They're super smooth and most of them are perfect neutral blushes on my pale skin whereas others can be used all over the face for a brightening effect. This one gives a very, very nice glow that I'm absolutely loving for a nice, neutral summer blush!
Birds & Berries eyeshadow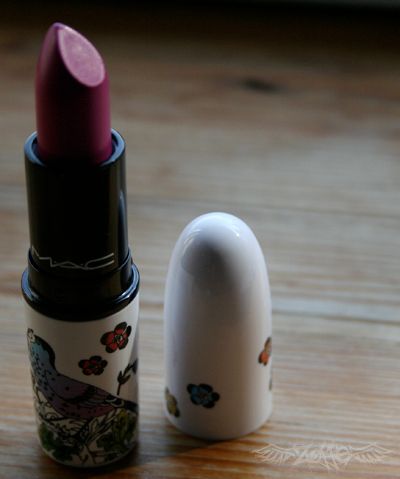 Petals & Peacocks lipstick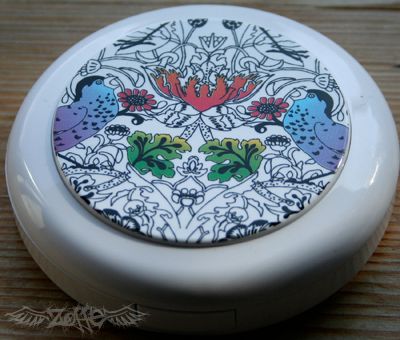 Shell Pearl beauty powder
Did you get anything from Liberty of London or are you planning on getting something?

What are your thoughts on the packaging?