You might have seen "INs and OUTs" posts on other blogs, and for some reason I really enjoy reading those, so why not start doing them myself? ;)
I think it's going to be a monthly thing, but we'll see how it goes :)
INs
Spring colors!
I always love bright colors, but I've been in the mood to use them more lately.
It feels great :D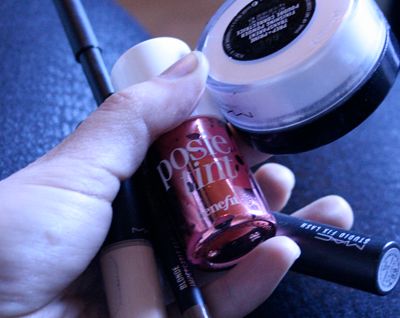 Quick makeup in the morning
I've been doing super quick five-minute-makeup in the morning a lot lately.
Probably because I'm too tired and lazy to do much else.
Sometimes, I just skip makeup completely, but my favorite quick look has consisted of
MAC Moisturecover concealer
MAC Prep+Prime transparent finishing powder
Benefit Posie Tint on the cheeks
MAC Blonde Impeccable brow pencil
Whatever mascara I grab first
And a little lip balm.
Filming tutorials
I have a lot of fun doing videos, and I've made quite a few this month!
Yay for being productive! :)
OUTs
My nails have never been great.
They break easily and because of that, all my nails are pretty much never the same length.
I'm trying to do something about it, so I clipped them all super short in the hope that they'll grow out long and beautiful. I'm currently using Sally Hansen miracle cure on them, but don't know if it works yet.
Don't get me wrong here. I still love bold, vampy lips, but being on my bright spring color kick, I just haven't rocked the dark lips a lot lately.
So what are the things you've been loving and hating this past month? :)