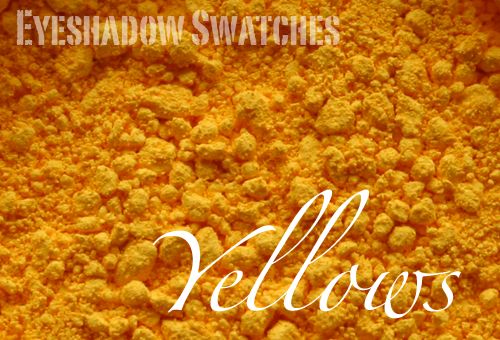 I got a request to swatch Suarpill's Buttercupcake next to MAC Chrome Yellow eyeshadow and Primary Yellow pigment.
When I had swatched those three I figured I might as well swatch all of my yellow eyeshadows for good measure! ;)
I actually ended up not swatching them all. I have some limited edition shadows and some more orange yellows that I didn't include, but I hope this will be helpful anyway.
Sugarpill Buttercupcake eyeshadow: I find this color to be a combination between Chrome Yellow and Primary Yellow, actually. At first, I thought this was a bit more warm than the others, but looking at them now I don't really know.
MAC Chrome Yellow eyeshadow: Since this was the color that opened up the world or yellow eyeshadow to me, it still holds a special place in my heart, even though I've now gotten Sugarpill's Buttercupcake and MAC Primary Yellow pigment ;)
MAC Primary Yellow pigment (PRO): Probably my favorite matte yellow. I like the color payoff and even though it can be a little chalky I don't mind working with it.
MAC Bright Sunshine (PRO): A bright, shiny yellow! I love this color :)
Ben Nye Sun Yellow eyeshadow: Very, very much like MAC Bright Sunshine. I probably couldn't tell them apart if I didn't know which one was which.
Makeup Store Sunset eyedust: This is probably the most unique color out of all of these! It's a yellow but has an orange tone to it, and there's some gorgeous pink/orange sparkle in it! Love!
NYX Yellow Gold pearl mania: I prefer other loose shadows to the NYX pearl manias since they're very shiny and not so pigmented, but this yellow gold is quite nice.
MAC Golden Lemon pigment: I really like this color, actually! I like that it's sparkly! It's like a very pale gold or very golden yellow.
GOSH Pineapple effect powder: A smoother, less glittery version of Golden Lemon from MAC.
Stargazer Yellow: Yes, it looks amazing and highlight yellow-ish. But honestly, it's probably the chalkiest color I've ever worked with. I had to really pack it on to get it to look like this. Such a pain in the butt!
And a close up of the three matte yellows to better show the difference
Sugarpill Buttercupcake eyeshadow - "The brightest bright matte yellow with awesome opaque coverage"
MAC Chrome Yellow eyeshadow: "Vivid bright yellow (matte)"
MAC Primary Yellow pigment (PRO): "Rich, radiant yellow (matte)"
I found the Primary Yellow pigment to be the brightest, but if you don't want to deal with loose shadows or just find this particular color too chalky, I'd definitely recommend Sugarpill Buttercupcake. Buttercupcake is a bit more pigmented than Chrome Yellow, but to get really amazing color payoff you do need to pack it on a little bit.