I guess I'm lucky these days!
Last week I got 50% off on
these MAC goodies
, and yesterday I was lucky enough to walk by a store that had GOSH products for 50% off!
Actually, all their cosmetics were 50% off, but the only things they had left that I wanted were these GOSH products!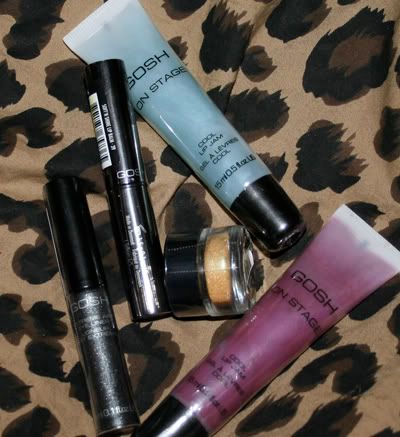 Extreme Art Eyeliner #25 - I love the Extreme Art Eyeliners! Very similar to the MAC liquidlast liners with the only difference being that the GOSH ones come in a much better variety of colors! Hear that, MAC?! GOSH makes more colors than you now!
The one I got is a very dark gray. Not the most exciting color but I just realized that I don't own a gray liquid liner!

Soft 'n Shine lip balm #39 Sweetheart - For the longest time, I refused to buy the Soft 'n Shine lip balms because I think they're a MAC Slimshine knock-off. However, after seeing all the MAC slimshines being discontinued(What's up with that MAC?!), I thought that I might as well try this and see how it compares. The color I got is a very pretty soft pink.

Yellow Sea Horse effect powder - Have I ever mentioned that I love effect powders?! This color is a pale yellow with a green duochrome to it, very similar to MAC Gorgeous Gold eyeshadow.

#101 On Stage cool lip jam - The On Stage cool lip jams feel kinda cooling on the lips (which I imagine is why they got their name?) and I think they're my favorite lip product from GOSH. This color is clear but has a blue duochrome to it which makes it very similar to Benefit California Kissin' lipgloss.

#105 On Stage cool lip jam - This color is very different from the other ones I own! It's amazingly pigmented and has a very cool looking blue-violet duochrome too it.