If you follow me on Twitter, you might have read, that I hauled a little at MAC last week.
I only just had the time to post about it here, but better late than never, right? ;)
My local MAC counter had 50% off on some of the old LE and DC items that they still had and I took advantage of it! ;)
Here's what I got!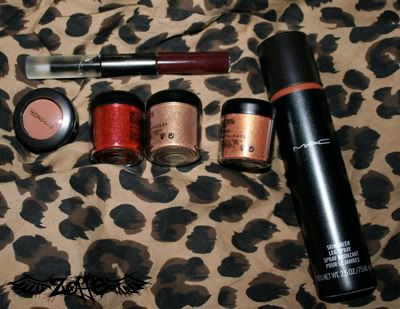 All Nighter PRO longwear (DC) - I absolutely adore dark lips and I don't know how I didn't get this sooner! I've worn it at the counter a couple of times and it's such a lovely color. I really like the pro longwears, but I rarely buy them because of the price :/
Saddle e/s (DC) - A basic medium brow. Not super special and not the best selling product (which I guess is why they're DCing it) but I think it's a nice color to have.
Reflects Rust glitter (PRO. LE at counters w/ Makeup Art Cosmetics '09) - I pretty much collect pigments and glitters, so there was no way I could pass on this ;) I've worn it at the counter a few times and I think my favorite way to use it is on top of a black liner.
Cocomotion pigment (LE w/ Makeup Art Cosmetics '09) - This has been out before and I always liked the color but just didn't love it enough to pay full price, so now was the time to get it!
Mega-Rich pigment (LE a loooooong time ago... w/ Overrich '08) - Another pretty pigment that I've been looking at ever since it came out but only just bought! *happy dance*
Skinsheen leg spray in the lightest color (medium dark) (LE) - I'm actually very happy with my pale self, but at the same time I like to change up my look as much as possible :) (with the exception being my hair. I'm just not a hair person, lol) I find the skinsheens to be pretty buildable but at the same time very easy to get to apply even. I also like how they don't transfer onto clothes (haven't tried with white clothing though, and I'm probably not going to take the risk!) but still wash off easily so I can go back to my nearly-corpse-color whenever I want ;)